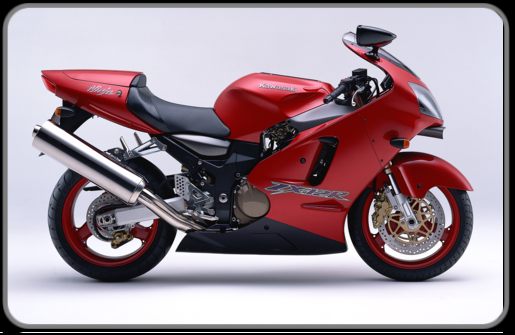 The 2000 Kawasaki ZX-12R
Nov 20, 1999 The new Kawasaki ZX-12R set a world speed record for the fastest accelerating production bike on the planet. Kawasaki drag bike racer Ricky Gadson, produced a 9.52 second, 147 mph 1/4 mile. The bike was completely stock, the front forks were adjusted by 5cm and the rear suspension dropped 10 cm. The bike crossed the line at nearly 150 mph, and was still in third gear. With three more to go, this rocket should top 200 mph.
In comparison, the 500 plus hp12 cylinder Ferarri 575M Maranellois a full 3.5 seconds behind (though of course I'd trade the bike for it in a heartbeat) Check the source at Ferrari's own site at http://www.ferrari.it/
OK, so how about a 415 HP Dodge Viper? Not even close.13.1 second at 109 MPH
Even a heavily modified Viper can't do it, although it does get closer than any other automobile contenders. Although I would still love to own a Viper, Porsche 911 or any Ferarri, I'd still have a ZX-12 parked next to it in the garage.
An interesting chart below for 0 to 60 mph times, along with how much you'd pay to get there...